Guide For Parents: 4 Mistakes To Avoid On Your Kid's First Day At A Child Care Centre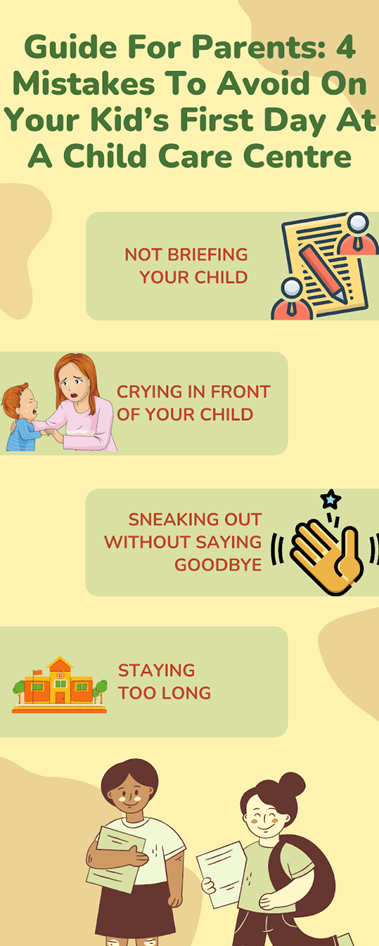 Is your first day the best day of your kindergarten life in Singapore? You should know that the first day of school is always a precious moment in someone's life.
The same goes for your children, and the only way for this day to be perfect is to avoid the common mistakes that parents make on their child's first day of school.
Below are just a few mistakes you should avoid on your child's first day at a child care centre.
1. NOT BRIEFING YOUR CHILD
Even though it seems like your child is too young to understand, explaining what they are about to experience will help them best at their childcare centre in Singapore. Your child will not get scared to meet and greet new kids their age and consider making friends with them.
2. CRYING IN FRONT OF YOUR CHILD
As a parent, you should learn how to suppress your emotions. Crying in front of your child, especially during their first day of school, will only cause them to have tantrums. That can happen since most children mimic what their parents do.
3. SNEAKING OUT WITHOUT SAYING GOODBYE
The best way not to let your infant cry at a care centre in Singapore is to sneak out without saying goodbye. Doing so will only cause them a mental breakdown that you leave for good. That is why you should say goodbye and reassure your child that you will fetch them later.
4. STAYING TOO LONG
If you stay too long at your child's kindergarten, the more they will become confused. They might think you are always there with them when they go to school. As much as possible, try not to stay longer than 10 minutes once you bring them there.
Knowing what mistakes to avoid during your child's first day of school makes you ready to register your child at a kindergarten. If you are looking for a kindergarten in Sengkang, go to MyFirstSkool. Check out their website today to find out what requirements you should meet.