Learn how OKRs can help your company achieve its monthly goals.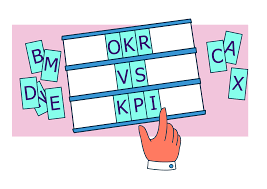 We understand that the pandemic has been a roller coaster ride for every one of us. Traditional in-person event has taken a back seat and the virtual event is ruling the world, but apart from all this one thing that have influenced our work life is mental health. As a leader of a company, those random thoughts like lack of motivation among the employees or the fear of starting everything from scratch must be like those chills down your spine. So, connect with our professionals to learn about OKRs and schedule your appointment with us. Our objective is to assist you regarding the alignment by connecting company, team and personal objectives to measurable results. To learn more about how to implement okrs you can visit our page
In 1970, OKRs was originated and has helped many companies like Intel and Goggle achieve their goals. Until today companies like Google and Intel use ORKs to achieve their goals faster and effectively. We help in closing the gap between strategies and daily execution. It helps employees to make a measurable contribution to achieving the company mission & vision. Contact our professionals to understand the services and other necessary details. Catherine Chen, a graduate from the University of Sheffield with a Master's degree in Multilingual Information Management, has developed a website to help the organizations. This website helps people to understand their objectives and results. 
OKRs is based on two elements and those are:
We understand that every organization is unique in itself and have their own problems. So, connect with OKRs because we are here to give an ideal solution to your modern problems. Our priority is customer satisfaction and so we try to understand the culture, norms and challenges faced by a company and then make a customize OKRs plan for you so that there is an alignment between your employees, strategies and goal.  We are here to assist you with your department/ team or company, we would love to be a part of your journey of being a successful organization. As a partner in your journey, we will be doing two things:
As experts in the field, one of the members will try to understand the current management of your company and then provide you with a customized deployment plan.

We will be guiding and inspiring your team members by training your internal OKRs experts, so your OKRs initiative is sustainable after we leave.
During the execution of OKRs in your company, our experts will be there to assist you regarding the running of OKRs and if anyone is still having questions, we will try to resolve the problem. We hope now you understand what is okr. is very important that as a company everyone is aligned with each other in such a way that it benefits all of them. We will help your company move forward faster, finer, and most importantly, together. Connect with our professionals to learn more about us.