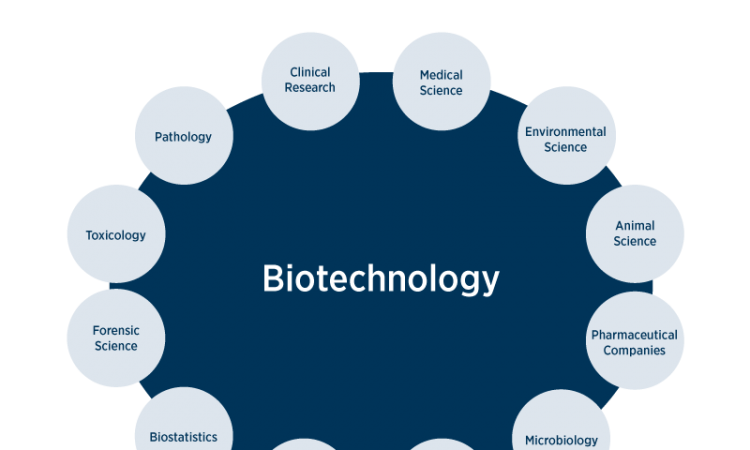 Deciding what you want to do as a career is a major decision. Maybe you enjoy science and find yourself interested in biology or technology. Perhaps you have a passion for making new scientific discoveries. No matter what enticed you to study biotechnology, you'd be surprised by the variety of jobs you can pursue.
So, what can you do with a biotechnology degree? You could be a chemist, a physicist, or even a genetic engineer. There are many professional paths possible for those with the desire and the commitment to achieve their goals. Which one is right for you?
Engineering
With a biotechnology degree, you can become a genetic engineer. Genetic engineering is the process of actually manipulating an organism's genes. Genetic engineers use tools the size of molecules to alter DNA fragments and directly edit the genetic code of a living thing. They're like DNA hackers. If you're a naturally curious person and have a passion for innovation, you could enter a field like genetic engineering and use your skills to make the world a better place.
Professionals working in this field can expect a median income of around $88,000 but can earn $140,000 or more with enough experience and expertise.
Biomedical engineers do amazing things such as develop life-saving artificial organs. They create innovations like the laser systems used in Lasik corrective eye surgery. The biomedical industry spans a variety of disciplines ranging from product design to patent law. Jobs in this field are projected for faster-than-average growth over the next decade as the population ages and technologies – such as 3D printing – become more advanced.
Individuals working in the field of biomedical engineering can expect a median income of $90,000.
These people manage the systems which ensure quality in the product development cycle. Designing the inspection and testing process of new products and procedures is their main responsibility. They run tests and collect data to make sure their company is compliant with standard specifications and meet industry approval.
Biotech quality control engineering requires a high level of specialization and so the earning potential is even higher than in related jobs.
IT/Life Science
Careers in information technology and life sciences are possible once you earn your biomedical engineering degree.  Salaries in these fields can easily reach six digits.
Bioinformaticians are the ones who made it possible to map the human genome. Their job is to create useful information from biomedical data using their skills in computer science.
Biochemists improve human health by studying their chemical properties and biological processes. Their research is complex. They focus on subjects like cell growth and development, genetic heredity, and the impact of different diseases on the human body.
Along with biochemists, biophysicists are integral to fostering innovation in the medical field. Their research goes toward inventing new medicines that cure, treat, or prevent such serious diseases as AIDS and cancer. The work they do changes and saves the lives of millions, and you can be a part of this respected profession with a degree in biomedical engineering.
Research
Clinical researchers work in a growing field but the competition among young professionals vying for this industry can be fierce, due to the size of the salaries available to those who strive for greatness among their peers. They have a high level of individual control over their projects and relatively unfettered access to resources available to them. Their job is to ensure the safety of new medicines. Responsibilities include developing research programs, clinical operations, development, screening patients for clinical trials, or even overseeing the policies and standard operating procedures of entire laboratories. Earning potential is very high in this field, and a top clinical research coordinator can combine their degree in biotechnology with a graduate-level management degree to gain the skills required to head massive research operations.
Lab technician/research associate
The job of laboratory technicians and research associates is to support fellow scientists by performing a very wide array of tasks, as determined by the scope of their research project.
Pharmaceutical Manufacturing
Process development scientist
Overseeing the laboratory manufacturing process is the primary responsibility of process development scientists. Their job is to look for ways to increase the quality and efficiency of their facility. They earn a median income of around $95,000.
Biomanufacturing specialists
Biomanufacturing involves actually producing the proteins that are needed to treat or even cure a variety of human ailments. A biomanufacturing specialist must have a detailed understanding of federal, state, and industry regulatory standards in order to fully ensure their manufacturing process meets purity and potency standards. They ensure the safety of the materials being produced using advanced tools and technological methods. Their biotechnology degree enables them to earn a median income in the area of $80k.
Sales and Marketing
Business Development Manager
If you're looking for the big bucks, becoming a business development manager might be the path for you. Business development managers supply biotechnology companies with the detailed market analysis needed to be as competitive and successful as possible. They assemble "competitive intelligence" to assist their business with conjuring a plan to invest and grow wisely. The high value they provide entitles them to earn six figures, with a median income of more than $113k.
Having a degree in biotechnology isn't essential to getting a job in pharmaceutical sales, but it helps you know what you're talking about. When you enter a career in sales, the only limit on your earning potential is yourself.
Marketing and product development (drugs, devices, etc.)
There's big money in advertising for big pharma, so if you have the drive and the sound mind to pursue your dreams, you'll amaze not only yourself but also those around you at what is actually possible. New drugs, medical procedures, innovative inventions, and product development are useless if the public is unaware. Of all the life sciences careers, developing new products and bringing awareness to them is as integral to the benefit of humankind as any of the other careers talked about here so far.
This is a field where creativity can be as beneficial as the biotechnology engineering degree would be to you. Don't be afraid to learn a lot, work hard, and get creative, so you can show the world what it hasn't ever seen before.
With a degree in biotechnology engineering, you can make the world a better place.